Saanich Schools Email Signatures in Outlook on the Web
Each email user in Saanich will have a Signature template inserted into their Outlook on the web email signature. The Signature will not be inserted in the Outlook Desktop client or the Outlook Mobile App. The goal of this template is to provide a consistent, professional signature for Saanich Schools staff.

Each person's signature includes graphics and some special formatting. In some cases, the Job Position or Work Location may need to be edited. Feel free to add phone numbers or professional Social Media information. Please do not add quotes, your email address or other graphics to the signature.
Click on the Gear icon

Click on View All Outlook Settings

Choose Mail > Compose and reply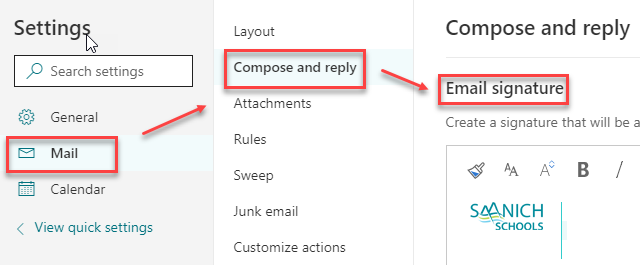 Below are some examples of Email Signatures...





Last modified: Friday, 18 September 2020, 11:10 AM